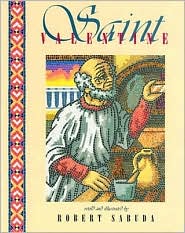 We will be celebrating all things pink and lovey-dovey this week!
We will be making some cookie hearts using the sugar cookie dough that I froze at Christmas (just ran out of time to decorate them, and I made a blessed decision not to try to squeeze it in).
We will try out a new recipe for
Frozen Hot Chocolate
, and I am going to serve it in glasses rimmed with pink and red sugar.
We will be reading
Saint Valentine by Robert Sabuda
. This dovetails nicely with our ongoing mosaic work, and we will also be making glue and paper heart mosaics.
Right now we are making
Valentine Dots
, which have become a tradition. My favorite is to use the caramel hershey kisses!
For our Valentine's date, we are looking forward to an afternoon of recollection at our parish on the subject of God's love, complete with child care! What a blessing and a treat to be able to spend some time together in prayer and adoration, what a beautiful way to support and affirm our love! I can't wait.
What does your family have planned?